MUTILATION RITES, Harbringer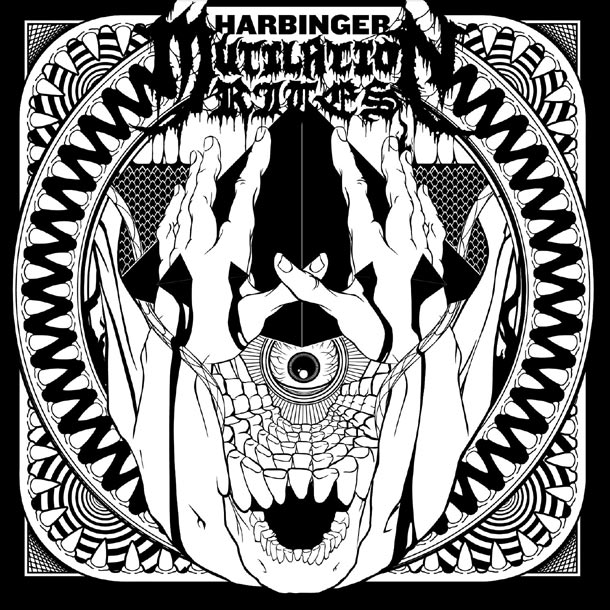 "You cannot kill what breeds within thee", diceva un certo Ihsahn in "The Loss And The Curse Of Reverence". Probabilmente col black metal funziona così: quando si intercettano determinate band nei frangenti iniziali della loro evoluzione, ecco che il tumore ricomincia mangiarti vivo. I Mutilation Rites, da New York, sono l'ennesima buona band americana uscita in questi anni: non sono sperimentali o "progressivi" come Liturgy o Krallice, sono meno struggenti dei Wolves In The Throne Room (e non fanno cagare come i Deafheaven), però, come alcuni gruppi statunitensi di questi anni, ti danno l'idea che un nuovo inizio sia possibile, lontano da patinature, tastieroni, orchestre e barocchismi vari nei quali ci si può imbattere in Europa, oltre che da maiali sgozzati e altre cose alle quali – se proprio non sei molto convincente – non crede nessuno. Un senso – sinistro – di autenticità, insomma, una voglia di perdersi semplicemente nei propri riff e basta, all'infinito o quasi, di tornare alle radici senza fare la cover band. I brani di Harbringer sono sporchi e non chiedono scusa, ma il gruppo piazza anche cambi di direzione, altrettanto violenti, che scongiurano ogni possibile monotonia, indugiando poi su qualche riff con quel compiacimento che chi ascolta black conosce bene.
Darkthrone, Discharge, Dissection e Weakling, dicono loro, dovendo indicare le influenze. Io – con le dovute proporzioni – quasi quasi ci sto.
Mentre pubblichiamo la recensione, l'album è completamente in streaming su Decibel.