LAIR OF THE MINOTAUR, Dragon Eagle Of Chaos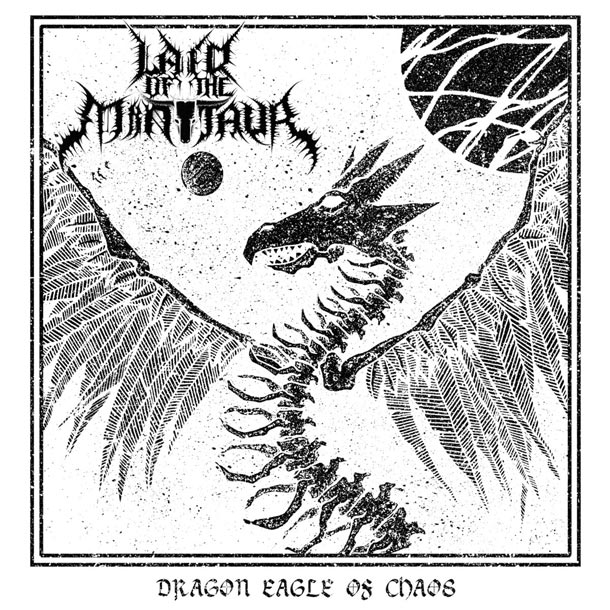 Assenti dalle scene da quasi otto anni, i Lair Of The Minotaur tornano con un ep di due pezzi. Minutaggio complessivo sei minuti scarsi. Decisamente poca cosa se si vuole fare un'analisi sullo stato di salute della band di Chicago.
Attivi dai primi anni del nuovo millennio, con tre dischi per Southern Lord, i Lair Of The Minotaur si sono poi persi per strada. Il precedente e ultimo album risale al 2010, non più per l'etichetta di Greg Anderson dei Sunn O))). E questo la dice lunga. Forse un periodo troppo lungo di stanchezza compositiva ha colpito la band, forse ci sono stati problemi di altra natura. Forse la carica distruttiva a base di sludge, thrash marcissimo e divagazioni epiche in chiave doom è esaurita. Insomma qualsiasi cosa sia accaduta, resta un peccato. Perché ascoltando questo piccolo vagito a nome Dragon Eagle Of Chaos, lo spirito guerresco, l'epicità di certi passaggi più aggressivi rimane intatta, e il terzetto riesce ancora a causare headbanging sfrenato. Poi magari siamo di fronte al risultato di anni di composizione (di questo ep esiste una demo version del 2016). Resta il fatto che si fanno ascoltare alla grande e divertono, coi fantasmi di High On Fire e Celtic Frost sempre presenti nei loro pezzi fumosi e caustici.
Che questo sia l'antipasto di nuovo album? Le premesse per un qualcosa di pesante, sgraziato, ricco di proto-thrash senza troppi fronzoli, ci sono tutte.