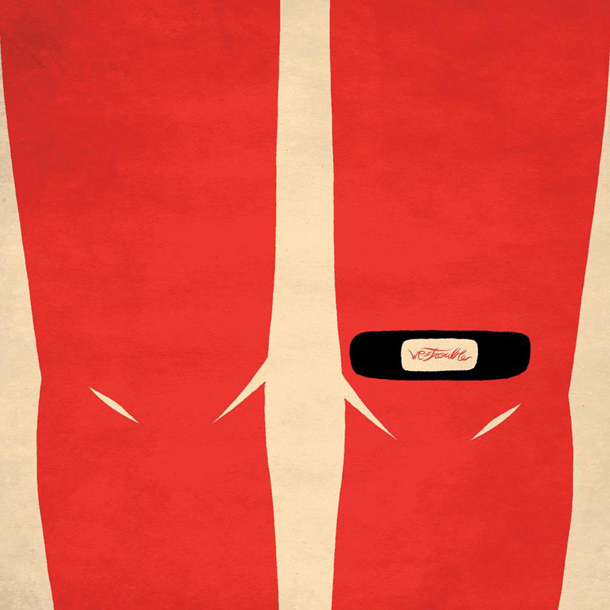 Un tipo, Johnny Mox (al secolo Gianluca Taraborelli), scafato musicista trentino che esordisce in solo con questo We=Trouble.
Creatura colorata e multiforme, la sua, che si permette il lusso di rileggere, a partire da istanze praticamente diy, blues, rock e rumorismi assortiti, come se vivesse dissociata tra fetidi marciapiedi newyorkesi e umide paludi della Louisiana. In alcuni casi, comunque, a Johnny non fa difetto una positiva leggerezza di fondo (lo spiritual "Oh Reverend" e lo speech-garage di "All We Ever Wanted Was Everything"). Il rap à la Kill The Vultures di "VHS Empire", poi, scompagina ancora di più le carte in tavola (confondendole un po' troppo, forse, ma è una minuscola pecca di un lavoro comunque notevole). Nella maggior parte dei pezzi fanno capolino chitarroni blues, che accompagnano una voce da carcerato in un campo di cotone nell'accoppiata "For President" e "Wallgaze Sermon" (pensate per un istante anche al film dei Coen Bros. "O Brother, Where Art Thou?" ed immaginate Mox che scimmiotta George Clooney e compagnia vestito da galeotto impenitente) . Gospel di un'anima corrotta, quindi, come se lo cantasse un peccatore con la faccia di bronzo e la mano lesta nel fregarti di soppiatto il rancio quotidiano, o gli ultimi risparmi nascosti sotto il pavimento. Acme del disco la finale "Benghazi", lenta messa nera in reverse con il decisivo apporto di Above The Tree. In sei minuti abbondanti vengono amalgamati – come meglio non potrebbe avvenire – ancora il blues più dopato, una malcelata vena kraut facilmente attribuibile all'ospite (il marchigiano Matteo Bernacchia) e un'indolenza tutta rabbuiata, con voce sommessa e tribale a fare la differenza.
Il ragazzo ha fatto goal con questo lavoro conciso e piacevole, e noi approviamo.