GIANLUCA BECUZZI, We Can Be Everywhere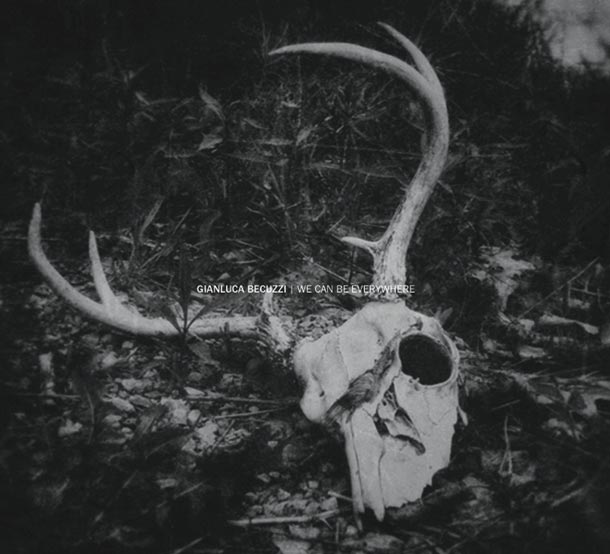 Quando per titolo sceglie "we can be everywhere", forse Gianluca Becuzzi allude alle collaborazioni che è riuscito a mettere in piedi per questo disco, coinvolgendo nomi italiani interessantissimi, che musicalmente gli sono in qualche modo vicini… ma non troppo, così che riesce a rinnovarsi rimanendo se stesso. Penso soprattutto alle due tracce realizzate assieme ai Retina.it: "Souls At Zero Density", potentissima e gigantesca, con percussioni schiaccianti che manco Megaptera, e "Farer Than Ever", con un battito sotterraneo che la rende molto contemporanea, dato che sappiamo essere molto trendy l'incontro tra dj e suggestioni provenienti dall'industrial originario. La collaborazione con Deison è più "ovvia", forse, e gli esiti sono molto buoni: in "Headless Shadows" i suoni crudi di Becuzzi – procuratevi (B)Haunted – squarciano il drone narcotizzante di Cristiano, mentre in "All The Ghost Of My Life" una voce ultra-trattata s'impossessa della traccia e garantisce tredici minuti di latente follia. Sempre spettrale anche il primo episodio realizzato in combutta con Raimondo Gaviano (Svart1); inaffrontabile – se non da sedati – il latrare squarciante di "The Screaming Torso", che manda a casa tanto noise "più giovane" di questi anni. Tre episodi su tre da solo, infine, vedono Becuzzi piuttosto satanico, in un contesto sostanzialmente dark ambient, il che in qualche modo rafforza l'impressione iniziale, quella cioè che gli ospiti inneschino lo scoppio creativo che fa stare We Can Be Everywhere un gradino sopra alle altre uscite di genere ascoltate quest'anno. Il merito, per carità, è comunque di un uomo che ha sempre saputo cercare nuove soluzioni, basta pensare ai dischi con Fabio Orsi o ad altri suoi progetti con identità molto diverse (Noise Trade Company).
Che annata per Final Muzik.
Tracklist
01. From This Poem Of Void
Composed By – Gianluca Becuzzi, Svart1
02. The Screaming Torso
Composed By – Gianluca Becuzzi, Svart1
03. In Black One
Composed By – Gianluca Becuzzi
04. Souls At Zero Density
Composed By – Gianluca Becuzzi, Retina.it
05. Salem
Composed By – Gianluca Becuzzi
06. Farer Than Ever
Composed By – Gianluca Becuzzi, Retina.it
07. In Black Two
Composed By – Gianluca Becuzzi
08. Headless Shadows
Composed By – Deison, Gianluca Becuzzi
09. All The Ghosts Of My Life
Composed By – Deison, Gianluca Becuzzi