Frantic Fest 2018: nuovi nomi in cartellone.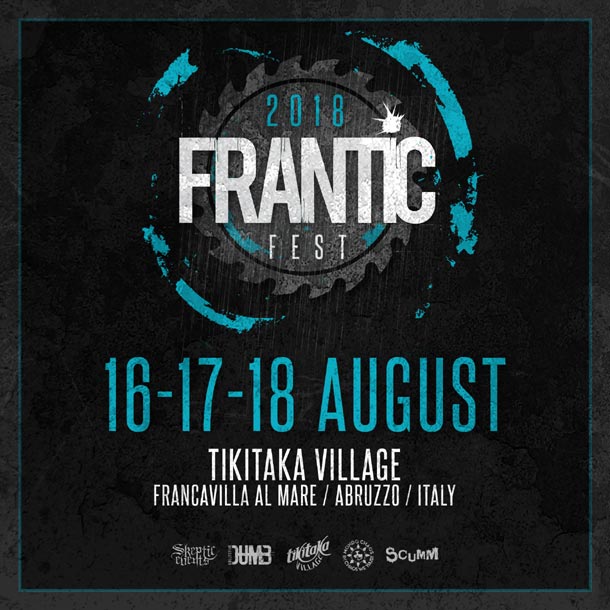 Riceviamo e pubblichiamo. Abbiamo aggiunto un po' di link, dato che conosciamo bene alcuni dei protagonisti.
Il Frantic Fest di Francavilla al mare aggiunge altre carne al fuoco e dopo l'annuncio della scorsa settimana di The Secret, Birdflesh, Slander, Grave Desecrator e Dehuman, si impreziosisce di nuove aggiunte. Dalle sonorità cupe e malinconiche del neofolk di Rome e King Dude all'heavy rock psichedelico dei Ruby the Hatchet e il doom esoterico dei Caronte, il festival abruzzese conferma ancora una volta una line-up estremamente variegata, con sei band ancora da annunciare.
Giovedì 16 agosto
Igorrr
GBH
Unsane
Yawning Man
Rome
Caronte
Ruby The Hatchet
+ 1 Band TBA
Venerdì 17 agosto
Enslaved
Bölzer
Sadistic Intent
Hirax
Grave Desecrator
Dehuman
+ 2 Bands TBA
Sabato 18 agosto
The Exploited
King Dude
Birdflesh
The Secret
Slander
+ 3 Bands TBA
Tikitaka Village
Contrada Valle Anzuca
Francavilla al mare / Abruzzo
ABBONAMENTO 3 GIORNI EARLY BIRD / 45 €
Link all'acquisto.
Prolungato fino al 3 giugno / 55 € a partire dal 4 giugno
BIGLIETTO SINGOLA GIORNATA / 25 €
Link all'acquisto.
Prezzo al botteghino: 35 €