Febbraio 2018: le prossime date del Bronson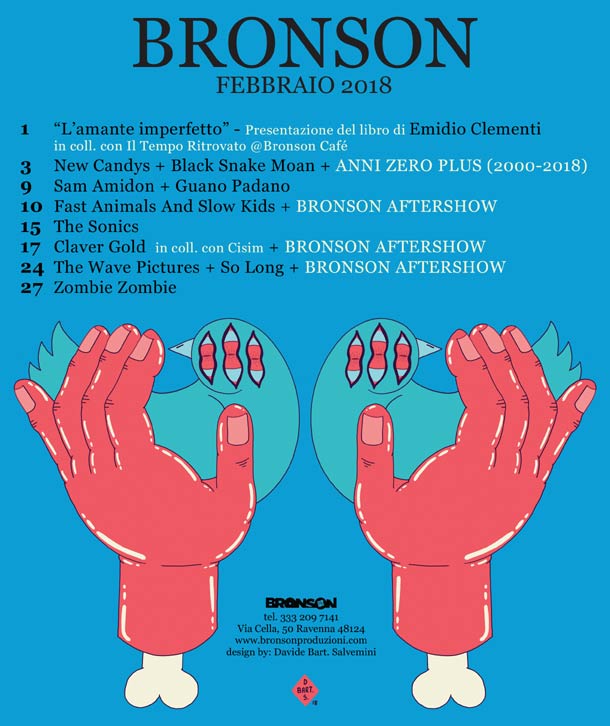 Riceviamo da Bronson e pubbichiamo.
15
THE SONICS
Il punk esisteva già quando ancora nessuno gli aveva dato un nome e lo suonavano a Tacoma (Washington) cinque ragazzi ai quali la carica trasgressiva del primo rock'n'roll non bastava più. Siamo lieti di annunciarvi che i Sonics sono pronti a tornare a Ravenna!
17
CLAVER GOLD
in coll. con CISIM
C'è il rap che ama i riflettori. E poi c'è il rap che rimane dietro le quinte: quello che non segue le mode e non tradisce mai se stesso. È il rap di Claver Gold, al secolo Daycol Orsini, che con il suo ultimo album Requiem dimostra che si può fare questa musica a un livello altissimo, anche senza rincorrere le ultime tendenze. Testi riflessivi, densi di citazioni e riferimenti, su melodie che ammiccano all'hip hop più classico. Il disco di Claver si muove tra i ricordi del passato: dalle amicizie perse alle relazioni sentimentali finite male.
24
The Wave Pictures + So Long
Dalle colline del Leicestershire alle fumose strade di Londra, fino alle nebbie della Romagna: i WAVE PICTURES tornano a Ravenna!
Aprono i SO LONG (al secolo So Long, Astoria), band cesenate pronta a presentare il nuovo album "Solong" registrato allo StoneBridge Studio.
27
Zombie Zombie
Il trio francese Zombie Zombie torna a Ravenna per presentare LIVITY, il nuovo album uscito lo scorso ottobre e intriso di vintage synth sound!