FATHER MURPHY, Anyway Your Children Will Deny It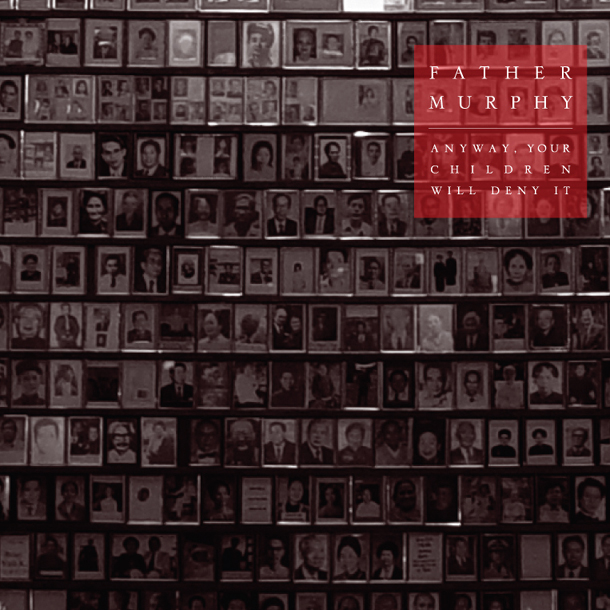 Saggezza e abnegazione.
Inesorabile e assorto nel suo corpo pensante, il reverendo ci presenta il nuovo lavoro uscito per l'americana Aagoo Records. Compie il salto di qualità, azzanna alla giugulare il fantasma doom-folk appena catturato e costruisce paurosi manichini con rimasugli umani. Solo la prima traccia sembra essere un passaggio "obbligato" nel suo mondo: la chitarra contorta compie un lavoro di routine, ma la chiosa è gigantesca, con quelle pelli che battono sul cadavere come avviene in "Clara" di Scott Walker, per esempio.
Gli sbuffi di Demarin, l'accompagnamento vocale di Chiara Lee e il lamento biascicato di Federico Zanatta acquistano senso quando gli abissi sono finalmente posseduti, anche nella traccia senza le voci, una "His Face Showed No Distortions" che mostra tutta la loro angoscia "munchiana". "It Is Funny It Is Restful Both Came Quickly" è sabba distorto che non fa prigionieri, una cascata emotiva davvero annichilente, come si potrebbe sentire da quei gruppi metal più illuminati che hanno scoperto Comus e compagnia. Salto temporale e siamo al cospetto di "In The Flood With The Flood", metal in reverse con drumming industrial che disturba il sonno. La parte del leone, comunque, la fa più spesso una specie di folk esoterico, ma della migliore fattura: quelle tastiere solenni di "In Praise Of Our Doubts" raccontano di un'evoluzione musicale cercata con l'anima e voluta fino alla consunzione. Le cattedrali sonore sono sempre pensate al millimetro, così in "Their Consciousness" i Father Murphy sembrano fare da testimoni a un incesto tra Nadja e Rivulets: corpo folk e chitarre shoegaze d'assalto. Recitano come un mantra here we are now, a ribadire che, nonostante l'apparente voglia di abbandonare questo mondo, il trio ci ha messo le radici e conservano un barlume di speranza, come un albero in un bosco che sta sparendo. Niente male come programma, tanto che nella conclusiva "Don't Let Yourself Be Hurt This Time" sembrano cantarci una delicata ninna nanna ─ l'esile Chiara Lee sugli scudi ─ e ci addormentiamo più felici. Mai stato cosi affascinante vivere negli incubi.