EELS, The Cautionary Tales Of Mark Oliver Everett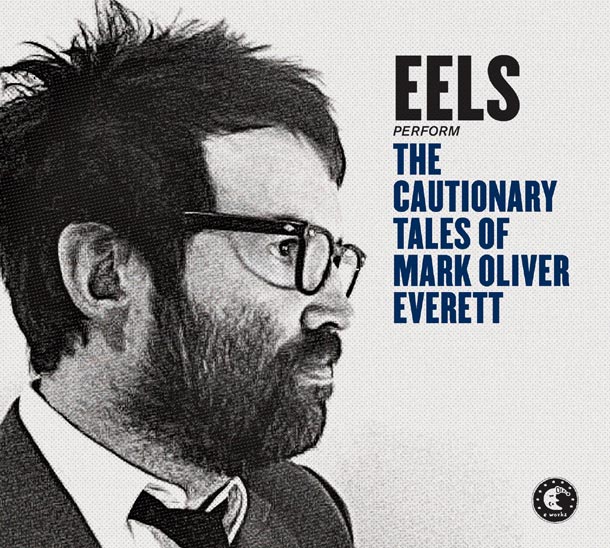 Sulla copertina c'è scritto il suo nome per intero: Mark Oliver Everett. Accanto, troviamo la sua faccia: un primo piano di barba e occhiali. Solo questi due elementi, che per molti altri artisti avrebbero potuto significare poco e niente, ci danno una vaga idea del disco che abbiamo di fronte. Un disco dove la figura del leader e autore degli Eels si fa avanti in maniera ancor più prepotente, in un momento il cui il gruppo gode però di una maggiore stabilità, poiché i musicisti che gli ruotano attorno rimangono più o meno sempre gli stessi da qualche anno.
Chi conosce Mr. E sa benissimo che è consuetudine per lui usare la musica per mettersi a nudo. In passato, ossia nei suoi lavori migliori, ci ha raccontato di alcune delle tragedie che lo hanno segnato, come la morte della madre per cancro e il suicidio della sorella. Le sue canzoni hanno sempre preso la forma del suo dolore e dello stato dei suoi sentimenti: negli ultimi anni, ad esempio, ci ha raccontato di un amore finito male, alternando nelle sue (fin troppe) prove discografiche un'attitudine alle volte intimista a una più elettrica.
Wonderful, Glorious, uscito lo scorso anno, ha rappresentato per il cantautore californiano un ritorno a livelli più elevati d'ispirazione, attraverso sonorità blueseggianti e più abrasive. The Cautionary Tales Of Mark Oliver Everett prosegue l'ottimo andazzo, basandosi però interamente su ballate e composizioni per lo più acustiche, con tredici brani quasi tutti molto brevi, scarni ed essenziali, arricchiti qua e là da arrangiamenti d'archi. Pezzi mai davvero memorabili, ma allo stesso tempo tutti su un livello sempre piuttosto elevato; nulla che possa rimandarci a dischi quali Electro-Shock Blues o Blinking Lights And Other Revelations, però tutto dentro gli standard qualitativi di un autore di canzoni che ha consolidato un suo stile e un suo marchio di fabbrica, sfociando in un "pregevole manierismo" ancora capace di regalare buoni momenti e di smuovere la nostra emotività.
Nessuno si sorprenderà per l'ultima uscita degli Eels. Nessuno griderà al miracolo, così come non è avvenuto per quanto uscito a loro nome negli ultimi sette-otto anni. Chi ama e segue la band difficilmente potrà non apprezzare questa nuova raccolta di canzoni. Chi invece non li ha mai amati in maniera particolare è bene che ne stia alla larga: la zuppa è sempre la solita, anche se cucinata benone e col giusto mestiere.
Tracklist
01. Where I'm At
02. Parallels
03. Lockdown Hurricane
04. Agatha Chang
05. A Swallow In The Sun
06. Where I'm From
07. Series Of Misunderstandings
08. Kindred Spirit
09. Gentlemen's Choice
10. Dead Reckoning
11. Answers
12. Mistakes Of My Youth
13. Where I'm Going