Cosa succede a ottobre ad Argo16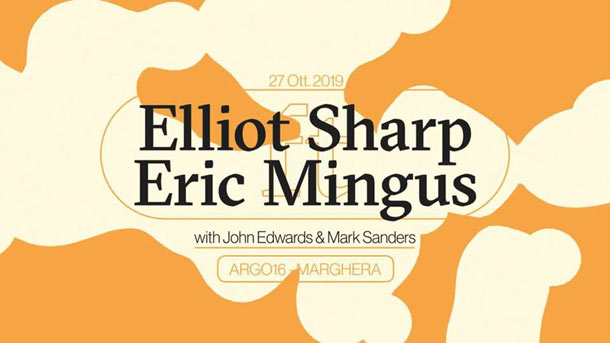 Riceviamo da Argo16 e pubblichiamo.
05/10 > Opening – Dengue Dengue Dengue | Populous
12/10 > Acido Lattico
13/10 > Un'altra città in festa
18/10 > Tropicalia
20/10 > Gran Bal Folk con Les Bottines Artistiques e Jasper Stewart
27/10 > Elliott Sharp Tectonics ft. Eric Mingus: Fourth Blood Moon
31/10 > 10 Years of Crispy
Domenica 27 ottobre 2019, ore 21, Musica Al Largo* & Argo16 presentano:
Elliott Sharp Tectonics ft. Eric Mingus
Elliot Sharp – guitar
Eric Mingus – voice
John Edwars – bass
Mark Sanders – drums
Due nomi come macigni in un quartetto titanico ad aprire la rassegna "Musica al Largo", portandola subito verso lidi inesplorati ma di cui si intravvede nitidamente la ricchezza.
L'incontro tra il chitarrista Elliott Sharp e il poeta, cantante, istrione e figlio d'arte Eric Mingus presenta un'inedita fusione tra l'uso estremo dello strumento in ogni sua possibilità e una vocalità, quella di Eric appunto, intimamente vicina agli aspetti più viscerali del soul, del blues e del rhythm and blues.
Fourth Blood Moon è un sogno, una visione onirica, completata magistralmente dal basso di John Edwards (Peter Brӧtzmann, Wadada Leo Smith, Evan Parker, Mats Gustafsson) e dalla batteria di Mark Sanders (Evan Parker, Tower of Power, John Butcher).
_________
MUSICA AL LARGO*
Sperimentazione, ricerca, innovazione, divulgazione e stupore.
La musica prende il largo.
I linguaggi della musica del nostro tempo nelle declinazioni più diverse in un nuovo format che porta in scena i grandi nomi della contemporaneità insieme a nuove promesse del panorama internazionale.
Nato dalla collaborazione tra lo spazio indipendente Argo16 ed il Conservatorio B.Marcello organizza, cura e documenta concerti, incontri, workshop aperti a musicisti, studenti ed appassionati.