Contemporarities 2018 a Milano: dal minimalismo italiano antiaccademico a Pinocchio… passando per i videogiochi
Riceviamo e pubblichiamo.
Terza edizione a Milano per il festival di Santeria e 19'40" che indaga l'ibridazione tra strumenti acustici, amplificati e immagini.
"Contemporarities rompe le gerarchie culturali tra ciò che è colto e ciò che non lo è, e tutto galleggia in un'apparente assenza di gravità: all'interno della rassegna coesistono con disinvoltura musiche suonate su partitura, atteggiamenti filologici, trascrizioni e sabotaggi. Il tentativo è quello di consegnare a un tempo futuro la definizione di "classicità" lasciando sospesi nel presente tentativi di cristallizzazione, idolatria o intoccabilità".
Enrico Gabrielli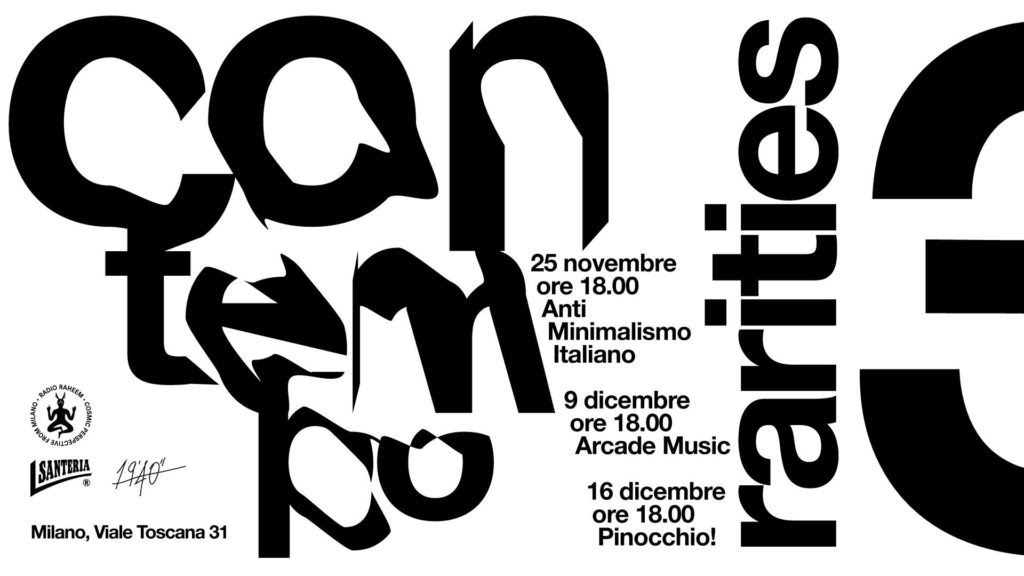 Tre appuntamenti distinti dedicati ad ambiti e mondi all'apparenza lontanissimi: il minimalismo italiano anti-accademico, la musica per videogiochi e la favola sonora di Pinocchio.
PROGRAMMA:
25 novembre – h. 18
Anti-minimalismo Italiano
Franco Battiato (1945)
L'Egitto prima delle sabbie (1978), per pianoforte
Franco Donatoni (1927-2000)
Lumen (1975), per ottavino, clarinetto basso, viola, violoncello, celesta e percussioni
Paolo Castaldi (1930)
Scale (1970), trascrizione per flauto, clarinetto, violino, violoncello, pianoforte e vibrafono
Giacinto Scelsi (1905-1988)
L'Âme Ailée (1973), per violino solo
Fulvio Caldini (1959)
Synchronia in quartetto op. 80/b (2001), per clarinetto, violoncello, pianoforte e marimba
Alvin Curran (1938)
Saltando in Padella (2005), for any instrument
9 dicembre – h. 18
Arcade Music
Tim and Geoff Follin (1970)
Ghouls 'n Ghosts Soundtrack [C 64 version] (1988):
Introduction
1st stage: Cemetery of the Executions and Floating Island on the Lake
2nd stage: Village of the Ruin and City in Flames
4th stage: Cave of the Crystals and Descent into the Abyss
5th stage: Castle of Loki / Lucifer
Paul Hindemith (1895-1963)
7 Stucke für drei Trautonium (1930)
Chino "Goia" Sornisi (1892-1968)
Un Petit Train électronique de Plaisir – Encore de memento
16 dicembre – h. 18
Pinocchio!
Fiorenzo Carpi (1918-1997) musiche dello sceneggiato RAI (1972) e letture dal testo di
Carlo "Collodi" Lorenzini (1826-1890)
Con la voce recitante di Francesco Bianconi e i disegni dal vivo di Olimpia Zagnoli