Chi c'è all'Obscene Extreme 2015?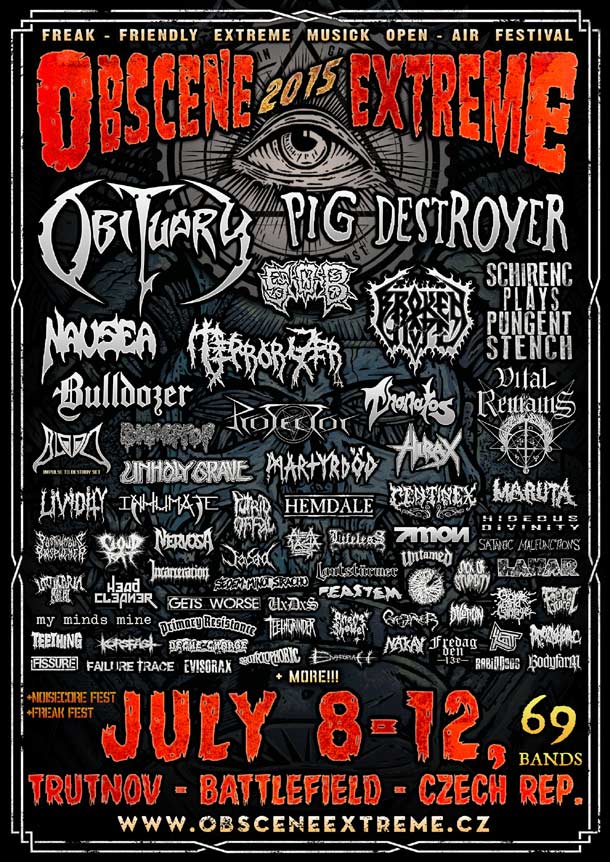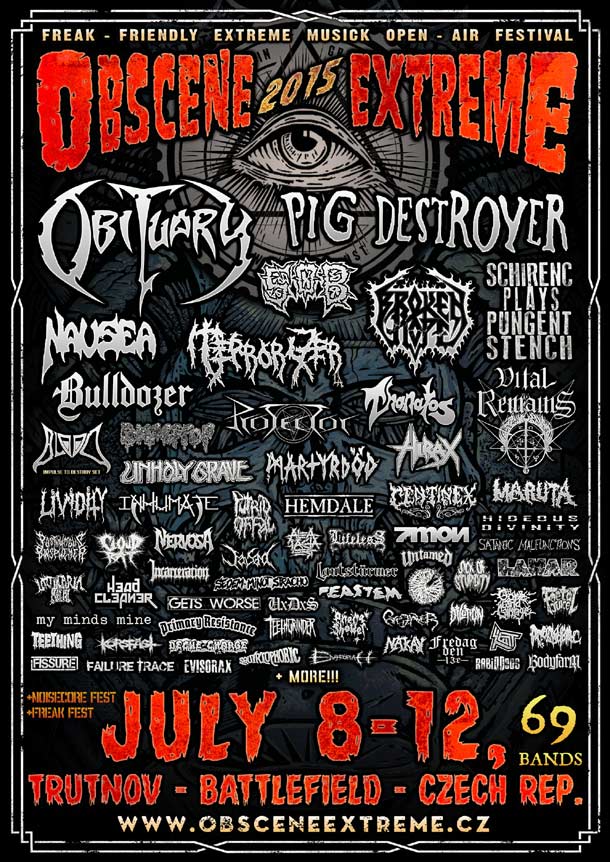 Come ogni anno, torna l'Obscene Extreme, il festival grindcore più importante del mondo, con sede a Trutnov, in Repubblica Ceca. In quest'edizione ci saranno grandi nomi della musica estrema: Obituary, Nausea, Terrorizer LA, Blood, Unholy Grave, S.O.B., Pig Destroyer, Thanatos, Protector, Bulldozer, Broken Hope, Hirax, Vital Remains e molti altri. Un bill sempre più vario, che non può che mettere d'accordo tutti i veri fan del massimalismo sonoro.
Si terrà dall'8 al 12 luglio al Na Bojisti, nel centro della città. Il primo giorno ci sarà il Noisecore Fest, un evento unico nella storia dell'Obscene Extreme, con 3 grandissimi nomi (appunto) del noisecore: 7 Minutes Of Nausea, Deche Charge e Sedem Minut Strachu.
Qui sotto il cartellone completo (il running order lo trovate sul sito del festival):
7 Minutes Of Nausea
Alea Iacta Est
Analkholic
BBYB
Blood
Bodyfarm
Bulldozer
Cote D'Aver
Deche-charge
Destructive Explosion Of Anal Garland
Filution
Enema Shower
Entropiah
Evisorax
Failure Trace
Feastem
Fissure
Foetal Juice
Fredag Den 13:e
Gets Worse
Gore And Carnage
Head Cleaner
Hemdale
Icon Of Evil
Incarceration
Inhumate
Jasad
Korsfäst
Lahar
Lautstürmer
Lifeless
Lividity
Maruta
Mindful Of Pripyat
My Minds Mine
Nak'ay
Nausea
Nervosa
Pig Destroyer
Posthumous Blasphemer
Primary Resistance
Protector
Putrid Offal
Rabid Dogs
Rompeprop
S.O.B.
Satanic Malfunctions
Sedem Minut Strachu
Schirenc plays Pungent Stench
Sick Of Stupidity
Squirtophobic
Teethgrinder
Teething
Terrorizer LA
Test
Thanatos
Undying Lust For Cadaverous Molestation
Unholy Grave
Untamed
Urtikaria Anal
Uxdxs
Vital Remains
Il biglietto è di 56 euro, ma può essere acquistato a 52 in prevendita scontato per l'Italia qui, presso la FOAD Records.