CAMILLA SPARKSSS, For You The Wild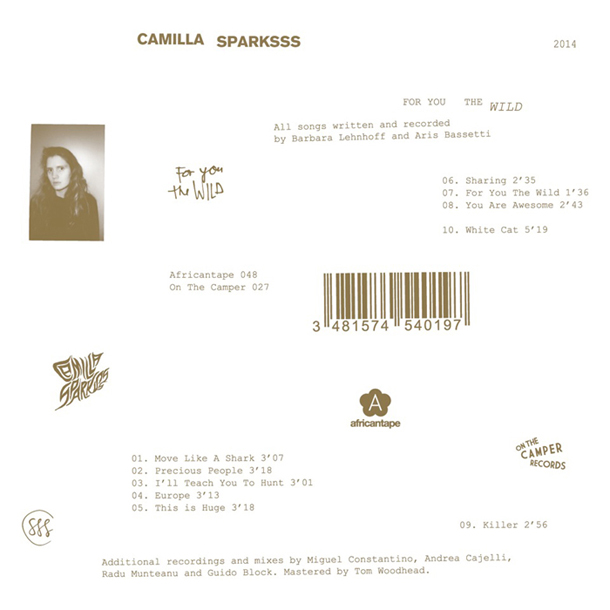 Da anni bassista e vocalist nei Peter Kernel, la canadese trapiantata a Lugano Barbara Lehnhoff debutta in solitario – nonostante dietro questo progetto si nasconda Aris Bassetti, l'altra metà della band svizzera – con lo pseudonimo di Camilla Sparksss.
For You The Wild è il suo primo lavoro sulla lunga distanza e racchiude molti dei precedenti singoli vinilici dell'ultimo anno solare. La sua immagine sempre stralunata, l'attitudine punk e una sana nostalgia electro-pop anni Ottanta la accompagnano e fanno da sfondo a queste dieci brevi tracce. Le atmosfere fumose, le luci stroboscopiche, certe sfumature estive e goliardiche (leggasi Subject, Alain Neffe), i ritmi incalzanti e danzerecci stile Kas Product, i rumori elettrici e distorti ("Europe" e "For You The Wild") e l'aggressione lisergica di "You Are Awesome" servono invece da catalizzatore per addensare questo marcio intruglio chimico/sintetico. Ah, quasi dimenticavo, in alcuni passaggi sembra di ascoltare vecchie produzioni targate Vita Noctis. Questo significa semplicemente che c'è anche uno scheletro malinconico, rinforzato e sorretto da sonorità lugubri, gelo e brividi di paura ("Precious People" e "White Cat"). Per farla breve: una malata rivisitazione 3.0 della storica scena coldwave francese (o un omaggio, se vogliamo), con qualche piccola variante cyber-noise e post-punk.
Queste tipologie di suoni/rumori, generate dalla mente di fanciulle isteriche e strambe, piacciono un casino. Speriamo ci sia un seguito, ma soprattutto di vederla dal vivo (Avgvsta Tavrinorvm non sarebbe male), coreografie e ballerine incluse. Per gli amanti della tape culture: sappiate che gira anche una versione limitata nel vostro formato preferito.