Bronson (RA): le date mancanti di maggio 2017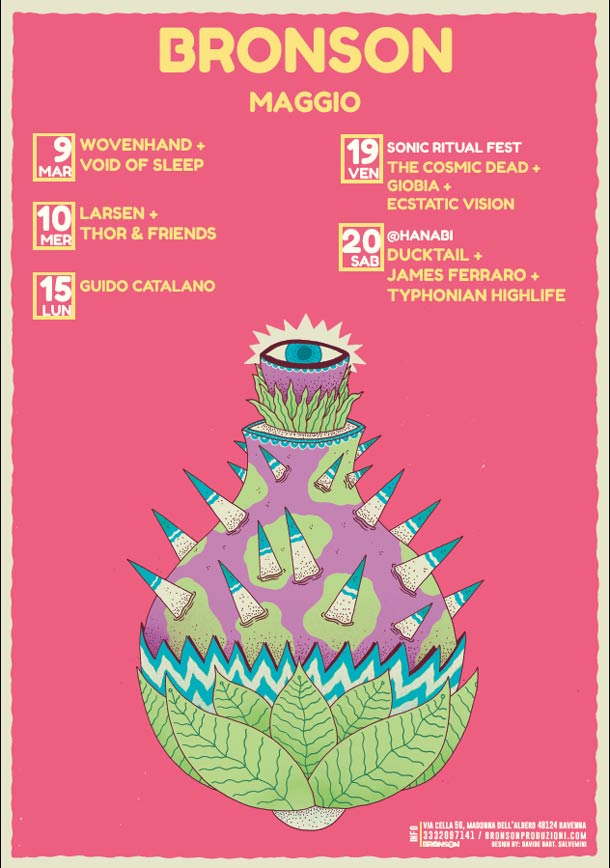 Riceviamo dal Bronson e pubblichiamo.
LUN 15 – Guido Catalano
Il ritorno del poeta che voleva, ed è riuscito, a diventare una rock star.
Vate dall'anima rock, infaticabile pellegrino dei club musicali di tutta Italia, il poeta torinese è pronto a ripartire con il suo trolley per portare in tutta Italia i versi della sua nuova raccolta di poesie. Ogni volta che mi baci muore un nazista…
VEN 19 – SONIC RITUAL FEST: The Cosmic Dead, Giobia, Ecstatic Vision
HEAVY PSYCH SOUNDS Records & Booking e Bronson Produzioni presentano
SONIC RITUAL FEST, incentrato su sonorità psichedeliche, space rock e ambient.
Si terrà al Bronson di Ravenna il 19 maggio, ma contemporanemente si svolgerà un evento gemello ad Atene in Grecia.
Live: The Cosmic Dead, Giobia, Ecstatic Vision.
SAB 20 – Ducktails + James Ferraro + Typhonian Highlife @ Hana-bi
Arriva sotto la tettoia un trio d'eccezione: il set solista di Matt Mondanile (ex Real Estate), il progetto vaporwave di James Ferraro (The Skaters) e la creatura sci-fi di Spencer Clark (l'altro The Skaters) che prende il nome di Typhonian Highlife.