BLOOD FEAST, The Future State Of Wicked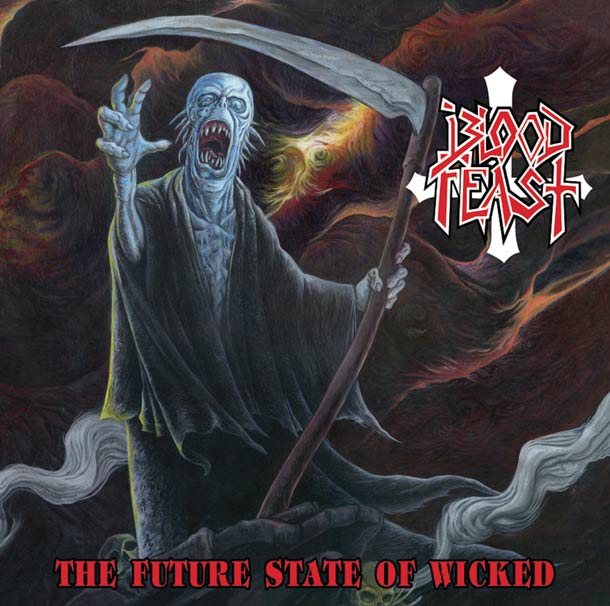 Toh, chi si rivede. I Blood Fest li avevo lasciati nel 1989 con l'ultimo full length intitolato Chopping Block Blues e poi, come per magia, erano spariti nel nulla. Complice una doppia reunion (nel 1999, poi nel 2007), seguita dalle performance in Giappone (con i nostrani Game Over) e al festival organizzato da Hells Headangers, eccoci con questo terzo capitolo. Della formazione originale troviamo il solo Adam Tranquilli, che poi suonò nella band solo tra il 1986 ed 1988, apparendo sul debutto Kill For Pleasure.
Devo ammettere che The Future State Of Wicked mi è piaciuto. E la cosa è strana, visto che schifo quasi totalmente i nuovi lavori delle thrash band degli Eighties. Il suono ovviamente è più moderno, pulito, ma neanche troppo. Nove pezzi su dieci sono stati scritti dall'originale axe man Tranquilli, e si sente: ritmiche serratissime, riff che si inseguono l'uno con l'altro per poi scontrarsi sprigionando un'esplosione di energia e in generale un certo retrogusto dei tempi d'oro vissuti da questo sound. The Future State Of Wicked fa affidamento anche su un'ottima sezione basso/batteria, che si diverte nel galoppare senza freni verso la distruzione completa. Se vogliamo proprio cercare il pelo nell'uovo, alla lunga è forse un po' ripetitivo, visto che la struttura dei pezzi è praticamente sempre la stessa.
Ah, detto per inciso: vale molto di più di tutta la paccottiglia prodotta da Anthrax, Slayer, Metallica e Megadeth dal 1990 ad oggi!