ARGUS, From Fields Of Fire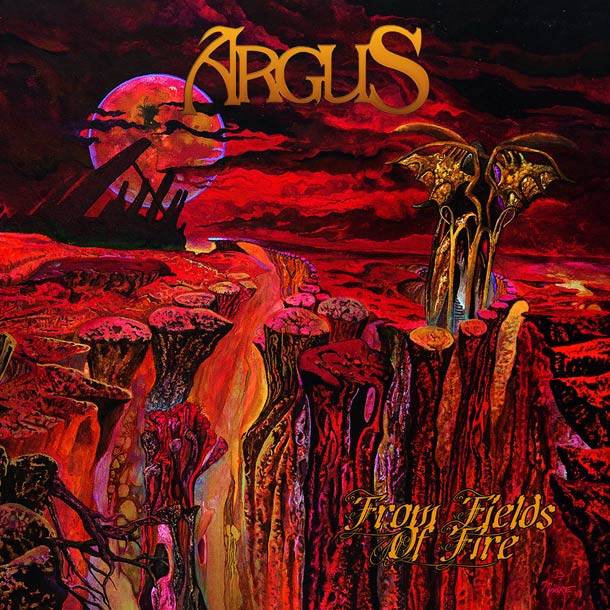 Gli Argus (Franklin, Pennsylvania) vanno annoverati tra quelle formazioni capaci di far confluire al meglio elementi doom all'interno di episodi essenzialmente heavy metal. Tra le loro fila si ritrovano musicisti noti per aver fatto parte di band importanti come Penance (Brian Balich, voce) e Abdullah (Kevin Latchaw, batteria), oltre che per aver inciso su etichette come Shadow Kingdom e, dal secondo album (Boldly Stride The Doomed, 2011), Cruz Del Sur.
Nelle tracce incluse in From Fields Of Fire gli Argus confermano di essere riusciti a plasmare uno stile personale, compatto e al contempo suscettibile di accogliere coinvolgenti linee melodiche. Rispetto al passato, questo quarto disco si rivela essere maggiormente evocativo e concede ampio spazio ad assoli e passaggi strumentali. L'incipit ("Devils Of Your Time") è conciso e si evolve includendo al proprio interno input maideniani che di tanto in tanto allargano lo spettro di influenze e di possibilità espressive in dote ai musicisti coinvolti. Ad esempio "Infinite Lives Infinite Doors" si dipana lungo oltre undici minuti di durata; eppure scorre con scioltezza e mostra una struttura snella.
L'intensità della prova vocale offerta da Balich permane e caratterizza "Hour Of Longing" e "No Right To Grieve", che, pur nella loro diversità, presentano alcuni punti di contatto: una marcata tendenza all'introspezione e break centrali ispirati.
Sospesi tra l'efficacia di una produzione al passo con i tempi ed echi di un passato al quale sono indissolubilmente legati, gli Argus confezionano una manciata di brani impreziosita da spunti memorabili, nonché da una complessiva aura atemporale.