ANTIKATECHON, The Sanctum Of Saturation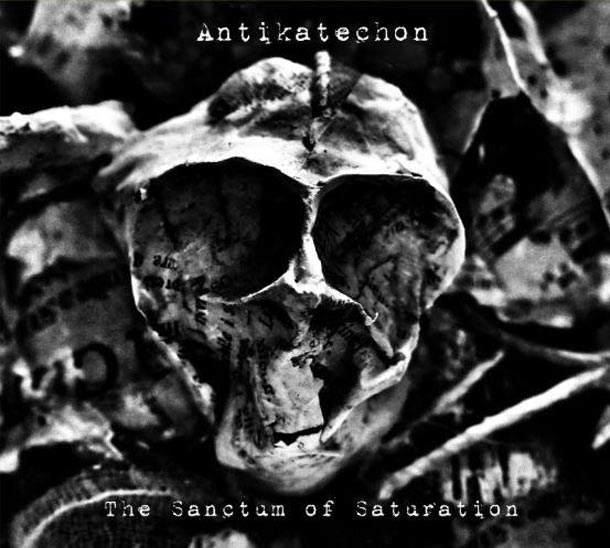 The Sanctum Of Saturation è il sesto album a nome Antikatechon per Davide Del Col, uno che non sta fermo e che non mente mai, nel senso che ti dice cosa suona e poi sta a te decidere. Come ho già scritto in passato, Davide sembra scegliere consciamente di non uscire da determinati steccati, essendo stato in realtà in grado di produrre materiale più eterodosso, ad esempio con gli Echran.
All'inizio i paragoni più semplici da fare per descrivere Antikatechon erano quelli col mondo Cold Meat Industry, per anni un riferimento di tutta la scena, mentre oggi, di fronte a questi due lunghi episodi più noise (vedi il titolo), ha più senso parlare di un percorso autonomo, sicuramente influenzato dalla stretta collaborazione con Giuseppe Verticchio (Nimh, Hall Of Mirrors), un probabile continuo darsi spunti a vicenda, visto che stiamo parlando di due veterani. Rage In Eden scrive che The Sanctum Of Saturation si sposta un po' verso il genere power electronics, ma io non sono proprio d'accordissimo: da un lato c'è appunto il legame con Nimh, anche per quanto riguarda certe impercettibili sfumature etniche e certe melodie sotterrane, dall'altro a mio avviso (ma potrei sbagliarmi) si sente che Davide ha anche un progetto black metal, perché alcune parti – pur non essendo metal – sono mortifere nello stesso modo in cui sapeva esserlo il black o certo doom dei primi Novanta.
Indubbiamente efficace, indubbiamente riservato a precisi ascoltatori, come immaginabile più numerosi all'inferno che sulla terra.
Tracklist
01.The Stations Of Servitude (25:59)
02. The Sanctum of Saturation (26:21)