77 band annunciate per il Metaldays 2016 (Tolmin, SLO)
Che cos'è il Metaldays ve lo abbiamo spiegato poco prima dell'edizione del 2015 (e avevamo pure organizzato un contest). Con il Metaldays 2016 partiamo un bel po' prima, un po' perché a voi era piaciuta l'iniziativa e anche perché l'organizzazione sta sorprendendo tutti con nomi sempre più grossi e annunciati in blocco, senza tanti cliffhanger.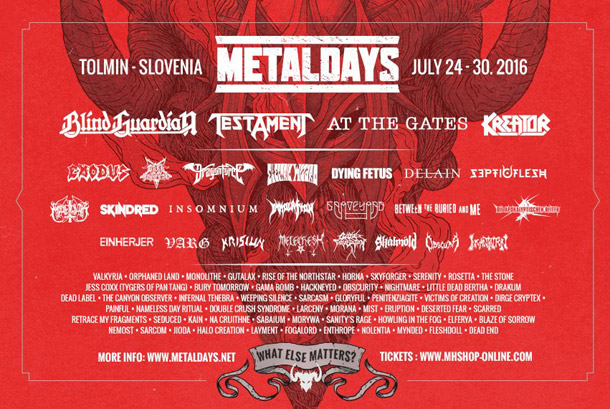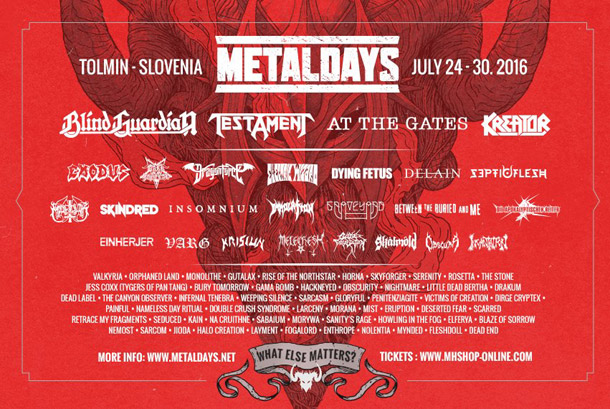 Che cosa sappiamo al momento?
Quando
Da domenica 24 a sabato 30 luglio.
Dove
Ripetiamo: Il festival Metaldays si svolge in mezzo ai due fiumi Soča (il più pulito d'Europa) e Tolminka. Ci sono due spiagge riservate al pubblico per il suo relax. Tolmin è a 65 chilometri dal mare Adriatico e la strada per raggiungerla passa in mezzo alle Alpi. Qui l'ABC del festvial
Le band
AT THE GATES, BLIND GUARDIAN, TESTAMENT, BETWEEN THE BURIED AND ME, CATTLE DECAPITATION, DARK FUNERAL, DELAIN, DIE APOKALYPTISCHEN REITER, DRAGONFORCE, DYING FETUS, ELECTRIC WIZARD, EXODUS, GRAVEYARD, IMMOLATION, INCANTATION, MARDUK, MELECHESH, OBSCURA, SKÁLMÖLD, SKINDRED, BURY TOMORROW, GAMA BOMB, GUTALAX, HORNA, JESS COX, MONOLITHE, ORPHANED LAND, RISE OF THE NORTHSTAR, ROSETTA, SKYFORGER, THE STONE, VALKYRJA, CRYPTEX, DEAD LABEL, DIRGE, DOUBLE CRUSH SYNDROME, DRAKUM, GLORYFUL, HACKNEYED, INFERNAL TENEBRA, LARCENY, LITTLE DEAD BERTHA, NAMELESS DAY RITUAL, NIGHTMARE, OBSCURITY, PAINFUL, PENITENZIAGITE, SARCASM, THE CANYON OBSERVER, VICTIMS OF CREATION, WEEPING SILENCE, BLAZE OF SORROW, DEAD END, DESERTED FEAR, ELFERYA, ENTHROPE, ERUPTION, FLESHDOLL, FOGALORD, HALO CREATION, HOWLING IN THE FOG, JIODA, KAIN, LAYMENT, MIST, MORANA, MORYWA, MYNDED, NA CRUITHNE, NEMOST, NOLENTIA, RETRACE MY FRAGMENTS, SABAIUM, SANITY'S RAGE, SARCOM, SCARRED, SEDUCED
Qui in ordine alfabetico.
I biglietti sono già disponibili.
L'organizzazione fornisce questo link: mhshop-online.com/Shop/Category/1386/metaldays-2016