40 WATT SUN, Wider Than The Sky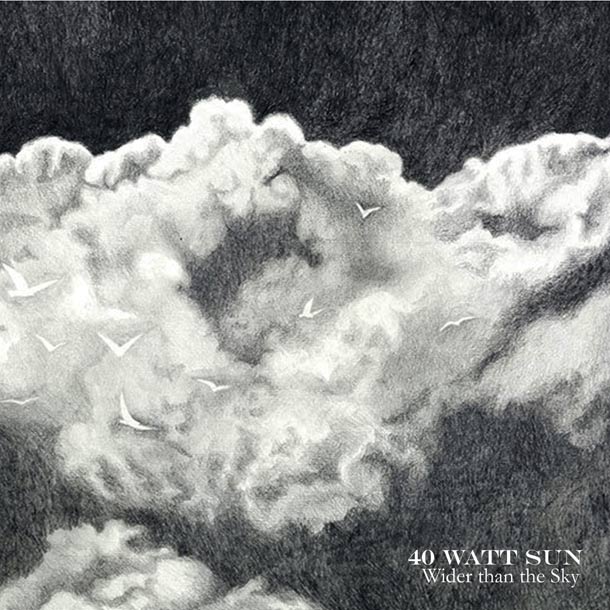 Tornano dopo cinque anni di silenzio gli inglesi 40 Watt Sun, tanti sono quelli che separano questo Wider Than The Sky da quello splendido monolite che era The Inside Room.
In cinque anni le cose possono cambiare, anche parecchio, ed ecco quindi che sembra non esserci più traccia dell'imperioso muro di suono tra noise e doom che saturava ogni anfratto del disco precedente. Quella cappa plumbea ha lasciato il posto ad atmosfere più ariose, che alleggeriscono non poco l'insieme e lasciano venir fuori il cantato di Patrick Walker, mai come ora libero di dipanare le sue melodie solenni.
Non è cambiata invece la tendenza a costruire strutture espanse, ripetitive, incantatorie, che si traduce in brani lunghissimi (60 minuti per 6 tracce, il conto è presto fatto), lenti e semplicissimi dal punto di vista armonico e strumentale, una sorta di slowcore intransigente che difficilmente lascia indifferenti, come già ai tempi dell'esordio, accolto senza mezzi termini con toni o tanto entusiastici (i più) o denigratori.
La decisa virata in termini di sonorità potrebbe restringere il loro pubblico, ma è innegabile il fascino esercitato dai paesaggi rarefatti dipinti da brani quali "Beyond You" e "Another Room", in bilico tra Codeine e i Talk Talk di Spirit of Eden, o la trascinante melodia dell'infinito pezzo di apertura, "Stages", 16 minuti che possono trascorrere in un secondo.
Li amerete alla follia o non ne vorrete mai più sentir parlare.