Night Shift, puntata 185 (intervista agli Zippo)
Gli Zippo sono un esempio di perseveranza e dal 2004 sono tra gli elementi di spicco del panorama Stoner Rock italiano.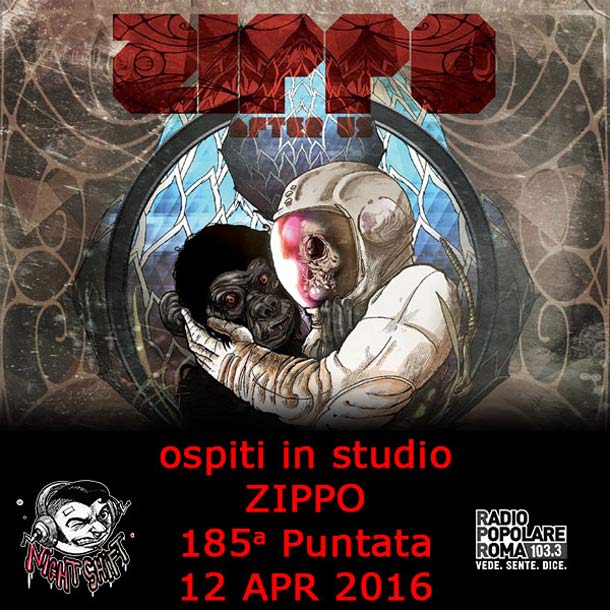 Con Dave in studio abbiamo parlato di After Us, quarto album della band, il primo come quartetto e il loro lavoro più diretto e sincero registrato in presa diretta.
Ascolta il podcast di Night Shift su Mixcloud.
Playlist
01. Burnin' Streets – Joe Strummer & The Mescaleros
02. Low Song – Zippo
03. Supa Scoopa And Mighty Scoop – Kyuss
04. Anodizer – Fu Manchu
05. After Us – Zippo
06. Avon (live) – Queens Of The Stone Age
07. Pure Rock Fury – Clutch
08. Comatose – Zippo
09. Tired Of Sex – Weezer
10. Something To Believe In – The Offspring
11. Familiar Roads – Zippo
12. Vampires In The Sun – The Orange Man Theory
13. Vedanta (The Nothing) – Simeon Soul Charger
14. Adrift (Yet Alive) – Zippo
15. O'Appalchia – Baroness
16. Essence Asunder – Kongh
17. Wicked World (Black Sabbath cover) – Zippo
18. Godman – Young Widows
19. Celestial (The Tower) – Isis
Night Shift
In onda ogni martedì a partire dalle 22:30 sui 103.3 FM di Radio Popolare Roma e in streaming su
radiopopolareroma.it
.
Contenitore musicale notturno che punta alla messa in circolo delle sonorità meno diffuse nell'etere romano. Grande attenzione è rivolta alle band underground nostrane, che vengono invitate a raccontarsi proponendo la loro musica e quella delle loro origini.