CORRADO ALTIERI / GIANLUCA FAVARON, The System Of Objects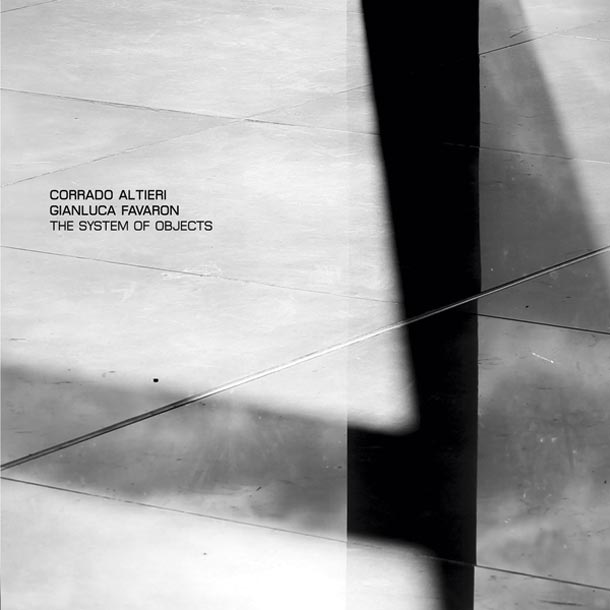 Titolo molto ambizioso per questa collaborazione tra due bravissimi sound artist italiani come Gianluca Favaron (Zbeen, Under The Snow) e Corrado Altieri (Candor Chasma). Intorno a loro c'è il consolidato network ambient/sperimentale italiano: Balestrazzi si occupa del mastering, l'Afeman Andrea Marutti cura gli aspetti grafici, Stefano Gentile (l'altro Under The Snow) pubblica con la sua Silentes e mette a disposizione il proprio talento fotografico. Sia Favaron sia Altieri sanno essere molto taglienti e freddi, per questo l'idea di fare un disco assieme dev'essere venuta molto spontaneamente, specie in un contesto nel quale l'imperativo oggi sembra essere quello di unire le forze (penso a quanto sono "collettivi" l'ultimo Hall Of Mirrors o progetti come Chtonian Music).
In The System Of Objects – attraverso elettronica, laptop e field recordings – Favaron e Altieri rappresentano un ambiente grigio, anonimo, coercitivo e spigoloso. Nessuna melodia, nessun passaggio facile (tenetelo a mente): la musica concreta diviene un tappeto brulicante che sembra essere il "lato glitch" di una lettura tesissima delle suggestioni dell'industrial music. È proprio "tensione" il concetto chiave di The System Of Objects: si percepisce rabbia repressa, si ascoltano gli attimi – prolungati all'infinito – che precedono lo scoppio della violenza. Il disco non allenta la presa mai, anche se sembra più invasivo e pericoloso di traccia in traccia, soprattutto perché termina con "Unconscious System", nella quale il caro vecchio noise si sente forte e chiaro e ci si caga letteralmente sotto (usiamo questo francesismo in omaggio a Baudrillard).
Tracklist
01. Objects And Time 1
02. Adjustment
03. Cultural Censorship
04. A Closed Language
05. Serial Conditioning
06. Objects And Time 2
07. Unconscious System